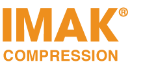 Arthritis Gloves
Designed to help relieve aches, pains, and stiffness associated with arthritis of the hands, IMAK Compression Arthritis Gloves are the only gloves on the market to have earned the Arthritis Foundation's Ease of Use Commendation for its design.
The unique design of the IMAK Compression Arthritis Gloves provides mild compression for warmth and helps increase circulation, which ultimately reduces pain and promotes healing. The Arthritis Gloves are made of soft, breathable cotton material, meaning they are comfortable enough to wear all day and night. The open fingertips allow you complete freedom to feel, touch and grip, so you can perform daily tasks without issue.
Additional Information
| | |
| --- | --- |
| Size | X-Small, Small, Medium, Large, X-Large |
| Option ( Stitching /Accent) | Black, Gold, Ruby, Sapphire |
Questions & Answers
Pictures of the different colors of compression gloves? Also, any compression gloves with full fingers?
Hello, Thank you for your question and interest in our IMAK Arthritis Gloves. We offer the gloves in gold, sapphire & ruby stitching in sizes Small, Medium & Large. The best place to view the different color options is on our website: http://www.brownmed.com/product/imak-compression/arthritis-gloves/ and under the size is a drop-down for Stitching Options. Please let us know if you have any further Qs, #877-853-558. Thank you! Kristin
Date published: 2016-11-29
I tried on a med. glove at the store. The fingers were way too long for my hand? The store did not have a small size. Would the fingers on a small be short enough for my hand? Or is there another glove you offer with shorter fingers
Hi Patti, Thank you for reaching out and for your interest in our IMAK Compression Gloves! Although it is not great, there is a difference in finger length between sizes. Our Small is just over 1/4" shorter than our Medium size, and the XS is 3/4" shorter than the Medium. It is important to note that our Gloves should cover the top joints of your fingers. Please let us know if you sill need assistance in determining which size would be the best fit and our Customer Service Team would be happy to help! Warm regards, Molly
Date published: 2016-11-18
Which insurance will cover the gloves and socks
Hello! Thank you for your message. Our IMAK Arthritis Gloves & Socks are FSA eligible and can be reimbursed through a flexible spending account or purchased with an FSA card without a prescription. Thank you for choosing Brownmed!
Date published: 2016-11-17
Are they sold local
Hi Carol, Thank you for your message. Our IMAK Arthritis Gloves are sold at select Walgreens so you might want to check there!
Date published: 2016-11-14
I am suffering from "trigger Finger" Will the arthritis gloves be helpful?
Hi Bob- Thank you for your question but unfortunately our IMAK Arthritis Gloves probably wouldn't provide you the support that you would need for trigger finger. The gloves are made of cotton and will bend with the motion of the finger versus helping to keep the finger straight. The gloves help relieve arthritis pain, provide mild compression, warmth & relieves join swelling. Hope this help, please let us know if you have any further Qs!
Date published: 2016-11-08
Hello–I have a sizing question. My size is medium, but long fingers make the size large a better fit; however, the size large doesn't provide much compression at all. My question is, will the gloves shrink any after washing? Should I buy the large?
Hello, Thank you for your message in regards to our Arthritis Gloves. We would suggest that you would be the size large in these gloves. Our material is pre-shrunk. Please let us know if you have any further Qs.
Date published: 2016-11-04
I recently purchased my second pair of arthritis gloves. These don't seem to be holding up as well as the first pair. The fabric is tearing on the under-side of each finger tip right below the edge seam. Any suggestions?
Good Afternoon and Thank You for your message. We're sorry to hear this about your IMAK Arthritis Gloves. Please give Customer Service a call & we will be happy to help you with the issue! #800-581-7001.
Date published: 2016-10-24
how to know what size to order
Hi GrannyDeb, Thanks for your interest in the Arthritis Gloves. To find your size, simply measure the width of your hand at the knuckles. A size extra small would be appropriate any measurement up to 2-3/4". Choose size small for up to 3-1/8". Choose size medium if your hand measures between 3-1/8" to 3-1/2" or size large up to 4". Size extra large is also available for palm widths up to 4-1/2". Hope that helps. Matt
Date published: 2016-08-29

Parse error: syntax error, unexpected ';', expecting identifier (T_STRING) or variable (T_VARIABLE) or '{' or '$' in /home/bmadmin/public_html/wp-content/plugins/insert-php/insert_php.php(48) : eval()'d code on line 1