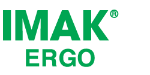 Wrist Cushion for Keyboard
Designed by an Orthopedic Surgeon – Ergonomic Wrist Support
The IMAK Ergo Wrist Cushion for Keyboard is filled with massaging ergoBeads, making for the most comfortable ergonomic wrist support available. The unique design conforms to your keyboard, while completely supporting your wrist and forearm in an ergonomically correct position, reducing stress in your hands, wrists and arms.
The ergoBeads massage your wrist as you type, providing all day typing comfort and promoting healthy hands and wrists.
Additional Information
| | |
| --- | --- |
| Color | Black, Heather Gray, Blue, Pink, Purple |
Questions & Answers
Could I use this type of wrist cushion with a laptop computer, say, with my Lenovo Think Pad? Or is it geared for the more traditional keyboard? I am currently using the IMAK Mouse Cushion with success.
Hi JBModica, So happy to hear you have enjoyed using our IMAK Mouse Cushion and thank you for your interest in our IMAK Wrist Cushion! Since you are looking for a wrist cushion to use with your laptop, I would recommend our IMAK LePetit Laptop Cushion. It is the perfect size to use on the go and with your laptop! It is made with the same ergoBeads that I am sure you have come to love in the Mouse Cushion! The dimensions for the LePetit Laptop Cushion are 4" x 2.25" x .875". For comparison, our standard Wrist Cushion measures at 4.875" x 5.5" x 2.375". If you have any further questions, please reach out to us at customer.service@brownmed.com. Hope this was helpful! 🙂 -Molly
Date published: 2016-06-17
Is this made with the same material on the outside as the mouse cushion?
Hi Nancy, great question! Yes, the IMAK Ergo Keyboard Cushion is made with the same cool, cotton Lycra® material as the IMAK Ergo Mouse Cushion. We hope this answers your question but if not or you have any other questions please don't hesitate to reach out to us at customer.service@brownmed.com. Thank you and have a great day!
Date published: 2015-10-21
Are these microwaveable for wrist relief?
Hi Donna! Thank you for choosing our IMAK Ergo Keyboard Cushion, we appreciate it. We actually do not recommend that you warm in a microwave, but would suggest putting this into a freezer to provide ice therapy. Please let us know if you have any further questions and thanks again for choosing our IMAK Ergo products!
Date published: 2015-08-13
What are the beads made of?
Hello. I've made a few enquiries on this product via the email address: customer.service@brownmed.com. Please check your email! Thank you.
Keyboard Wrist Cushion
is rated out of
5
by
2203
.
Rated

2

out of

5
by
NStein
from
Not enough filling
This needs to have more beads or whatever they are filled with. I was going to return it but I think I am just going to open the seam a little and put some small beads in it to where it feels better to me.
Date published: 2016-10-05
Rated

5

out of

5
by
KayArr
from
This is THE ergonomic wrist rest, accept no lesser
Originally purchased this ergo pad about 4 years ago for my first job where our communication with clients was almost completely chat/text based and 100% of my work was at the PC. I wish the mouse-wrist-cushion was an option for me, but we had a required mousepad to use with a "STANDARD" ergo-pad built in (which felt horrible by comparison). This cushion is THE REASON I survived at that job. The fact that the SUPER comfortable beads conform actively to every detail and motion of the wrist is beyond compare. EXTRA BONUS: I fidget randomly, and squashing, smooshing stretching adjusting the cushion is unbelievably satisfying. Oh, and did I mention that this four-year-old, constantly-used, constantly-messed-with cushion is in the same condition as the day I purchased it? The elastic material, which still feels as amazing as day one, has exceeded my expectations as I have hand washed it many times and I think has only stretched a bit; I'd need to compare it to a new one to be sure (picture added for proof). Well, I'm back to finally get that mouse cushion!
Date published: 2016-08-01
Rated

5

out of

5
by
Jean
from
Best buy I have made for keyboard comfort
This portable gel bead wrist rest is comfortable, portable, and functional
Date published: 2015-07-22