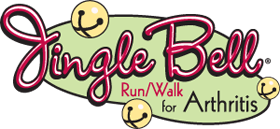 It was the night before the 26th Annual Jingle Bell Run, a 5K race series to help raise funds for the fight against Arthritis.
The Brownmed elves were a proud sponsor of this big event, which was attended by more than 1,500 participants. At the event, we talked to many people who lived with the pain of arthritis on a daily basis or were very close to someone who did. To help, we gave away more than 100 pairs of IMAK Compression products designed specifically to provide relief from the pain of arthritis including our IMAK Compression Arthritis Gloves and Arthritis Socks. In fact, our IMAK Compression Arthritis Gloves remain the only gloves on the market to have earned the Arthritis Foundation's Ease of Use Commendation for their design.
The event raised more than $120,000 for the Arthritis Foundation – a record high for Kansas City. According to the CDC, Arthritis is the most common cause of disability in the United States, affecting more than 52.5 million adults and children.  To learn more or donate to the Arthritis Foundation, click here.
– See more at: http://brownmed.com/blog/brownmed-sponsors-the-25th-anniversary-jingle-bell-run-walk-for-arthritis/