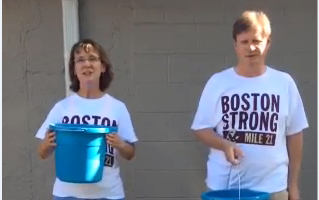 Ice-Bucket-Challenge-_Ivan_and_Katie_9-25-14.MOV
Earlier this month, President and CEO, Ivan Brown took the 'Ice Bucket Challenge' to raise funds  for a cure for ALS. He was joined by Katie Williams, fellow BC Alumni member of the Kansas City Chapter.
Amyotrophic lateral sclerosis (ALS), more commonly referred to as Lou Gehrig's disease, is a progressive neurodegenerative disease that attacks nerve cells and pathways in the brain and spinal cord.  When these cells die, voluntary muscle control and movement dies with them.  Patients in the later stages of the disease are totally paralyzed, yet in most cases, their minds remain sharp and alert.
Every day, an average of 15 people are newly diagnosed with ALS — more than 5,600 people per year. As many as 30,000 Americans may currently be affected by ALS. Annually, ALS is responsible for two deaths per 100,000 people.
The average life expectancy of a person with ALS is two to five years from time of diagnosis.  With recent advances in research and improved medical care, many patients are living longer, more productive lives. Half of all those affected live at least three years or more after diagnosis.  About 20 percent live five years or more, and up to ten percent will survive more than ten years.
ALS occurs throughout the world with no racial, ethnic, or socioeconomic boundaries.  ALS can strike anyone. Every single American is threatened by this disease.
To learn more, or make a donation, click
here.