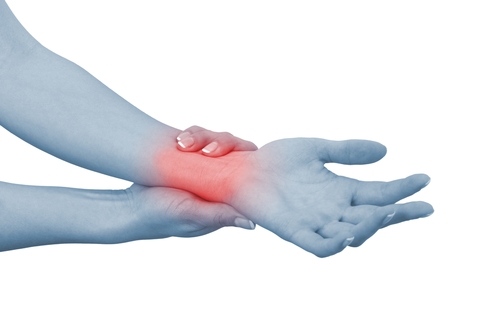 At some point in their lives, millions of Americans will have to manage symptoms related to carpal tunnel – the New York Times
estimates
 that three percent of women and two percent of men will develop the syndrome at some point. Overwhelmingly, these people are of working age, as the condition rarely occurs in children. Managing the pain and numbness that carpal tunnel causes is a critical part of maintaining a full professional life. Here are eight things you can do to manage your carpal tunnel at work:
1. Know your risks
People who work in some occupations are at a greater risk for developing carpal tunnel than others. Unfortunately, these jobs usually require the use of wrists, meaning that they are also harder to do after the syndrome develops. It's important to know your hazard profile, and to take precautions if you are working an at-risk job. According to the
Bureau of Labor Statistics
, the most dangerous professions in this regard are:
Laborers and freight, stock, and material, movers
Customer service representatives
First-line supervisors/managers of office and administrative support workers
Janitors, maids, and housekeeping cleaners
Food service managers
First-line supervisors/managers of retail sales workers
Automotive service technicians and mechanics
Executive secretaries and administrative assistants
Financial managers
Sewing machine operators
Truck drivers
2. Rest
Your first instinct may be to rush back to work as soon as you are able to. This isn't always the best course of action. Pushing your body back into activities it is not ready for can re-aggravate the injury and keep you sidelined for an even longer time. Avoid using the affected hands or wrists for a couple of weeks, to give the tissues time to heal and yourself an opportunity to adjust to managing the condition.
3. Do regular exercises
There are a number of things you can to do to keep your wrists limber and well-toned. Talk with a physician about a routine that would be right for your lifestyle, and perform the exercises at regular interval. There is even some evidence that full-body stretches, such as those done in yoga, can have a positive impact on recovery from carpal tunnel syndrome. Squeezing a
stress ball
may also provide relief and strengthen the muscles in your hand.
4. Take breaks
Jobs that require a lot of repetitive motion, especially those that put strain on the wrist, can have a negative impact on carpal tunnel symptoms. If you are employed in such a capacity, be sure to take frequent breaks, and switch the position that your wrists are in to prevent stiffness and swelling. If you need to use heavy machinery that is making your carpal tunnel worse, talk to your employer about accommodations that can be made, even if they are only temporary.
5. Wear a specially-designed glove
A specially-designed helps keep your wrist stable while you work or sleep, which can prevent symptoms from getting worse. Especially if you have to use your hands a lot as part of your job, wearing a device like the 
Imak
 RSI Smart Glove can help insure that going to the office doesn't mean undoing recovery progress.
6. Make healthy choices
Excess weight appears to reduce nerve flow speed into the hand, which can exacerbate issues related to carpal tunnel. Eating healthy and getting exercise could help ease or prevent carpal tunnel syndrome. Smoking is also a risk factor, as cigarettes slow down blood flow, increasing recovery time and making it harder to get back to work.
7. Take anti-inflammatory medication
Taking a non steroidal pain reliever, such as aspirin, ibuprofen, or naproxen sodium, and reduce discomfort related to inflammation. When you deal with carpal tunnel, the tissues inside the wrist become inflamed and can cause distracting pain.
8. Consider Surgery
As with many other medical conditions, surgery is usually not the first option considered. However, if pain is severe and ongoing, it could be the right call. If you think this is right for you, schedule an appointment to discuss it with a physician. These procedures can often be performed on an outpatient basis, and provide relief by opening up the carpal tunnel that has become constricted.