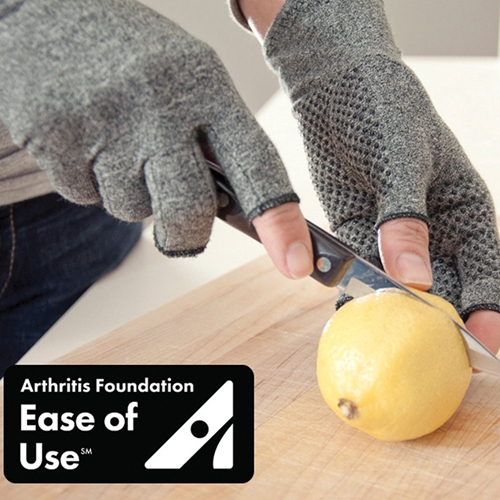 Arthritis can be a debilitating condition. In fact, it is the
most common cause of disability
in the U.S., according to the Centers for Disease Control and Prevention. If you're one of the many who experiences the condition in your hands, you may find that on bad days even simple tasks like holding a fork or typing an email are challenging. Compression therapy is one strategy that can help to ease the pain caused by arthritis and restore more natural movement. Arthritis gloves are a convenient and simple way to benefit from this type of treatment. If you're living with this chronic condition, therapy gloves are worth trying. But before you invest in a pair, you probably have a big question you want answered first – do arthritis glove work?
What are arthritis gloves?
Indistinguishable from a normal pair of gloves, arthritis gloves slip onto your hands, leaving your fingers free to move as they usually do. The design of the gloves provides a gentle pressure which helps to improve blood circulation. This in turn can promote healing and reduce inflammation, easing your pain. When it comes to determining their effectiveness, a 2014 study published in the journal Therapeutic Advances in Muskoskeletal Disease looked to determine just that. After reviewing seven clinical trials and one case study, the authors determined that for patients with rheumatoid arthritis,
therapy gloves reduced pain in the hands
– as well as both swelling and stiffness. According to the published paper, the "improvement in hand symptoms reported from the use of therapy gloves is strong."
The benefits IMAK® Compression
One of the major advantages of using arthritis gloves, as opposed to medication, is that no matter what pair you own, you don't need to worry about unwelcome side effects. This method is completely natural and you'll likely barely notice that you're wearing the gloves as you go about your day. But that doesn't mean that all brands are created equal. It's important to choose gloves that are specifically designed to provide maximum comfort and dexterity to ensure that you'll wear them regularly. The
IMAK® Compression Arthritis Gloves
are head and shoulders above the competition in a number of ways, including:
Ease-of-use.
Range of movement.
Comfort.
They are additionally the only gloves on the market whose design has earned the Arthritis Foundation's Ease of Use Commendation. Pick up a pair at your local Walgreens or order them through
Amazon.com
today to experience the many benefits of IMAK® Compression for yourself.