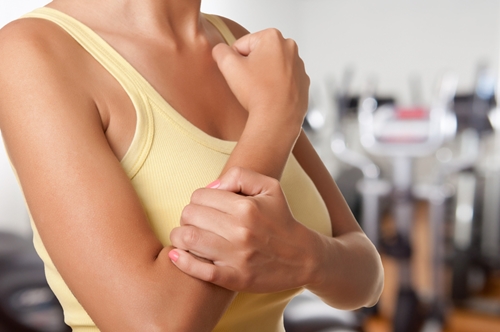 Any sufferer of arthritis knows that the condition can be painful and debilitating. Unfortunately, it is also quite common: according to the American Academy of orthopedic surgeons, it is the most common disability in the country. One way to maintain an active lifestyle while dealing with arthritis is to wear special gloves. These devices help relieve aches, pains and stiffness, and could grant you the greater range of motion required to live your everyday life.
"When choosing the right glove, there are several factors to consider."
When choosing the glove that is right for you, there are several factors to consider. Here are a few things to keep in mind before you make a purchase:
How much coverage do I need?
Depending on your lifestyle, you might choose gloves that cover your full palm, your wrist and thumb or even just your wrist. A wrist sleeve is a fine choice for sufferers of carpal tunnel who have to do a lot of computer work, whereas a person dealing with pain in her knuckles may instead choose for an option with more coverage. Consult with your physician to figure out which option best fits with your needs.
What size are my hands?
It is understandable that you might want to purchase one-size-fits all gloves. However, these devices aren't actually tailored to your unique needs, and as such, are likely to have highly reduced effectiveness. The material will not sit properly over your knuckles, and you will not get the full benefits of the products.
What materials do I want?
What kind of material your glove is made of will affect not only how much it helps, but also how easy it is to clean and maintain. One of the best fabrics for this purposes is cotton. Not only is cotton flexible and durable, it also breathes easily which keeps your hands cool and dextrous. Plus, because it is easy to wash, you don't have to worry about a special cleaning routine. It is also lightweight enough to carry around in a purse or backpack with ease. Arthritis pain doesn't have to affect your quality of living. With the right glove, you can be back doing all of the things that you love to do. To find one that fits you, or to get more information, please
contact us
today.