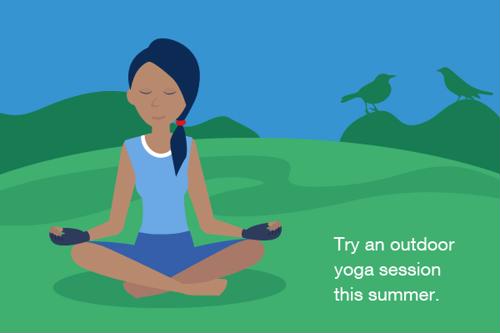 Summer's right around the corner. With ample opportunity to spend time outside, there's no reason you should feel obligated to exercise in the gym. In fact, there are plenty of low-impact activities that can help you stay in shape while enjoying everything Mother Nature has to offer. These exercises are great for virtually anyone; even if you're dealing with a debilitating condition like arthritis, or you suffer from a repetitive strain injury, you can try a low-impact activity and optimize your overall health and wellness.
Here are a few exercises to weave into your agenda this summer:
1. Take a walk
What better way to embrace the great outdoors than with a walk through the park? According to the Mayo Clinic, walking can help you maintain a healthy weight as well as strengthen your bones and muscles. You'll be more likely to achieve these health benefits if you can walk for at least 30 minutes a day – but even shorter walks can help.
2. Go on a bike ride
Biking is another fun and exciting way to explore nature. It's also a great form of low-impact exercise. As The Better Health Channel describes it, cycling is incredibly beneficial to your overall health. Biking on a regular basis increases cardiovascular fitness, muscle strength and flexibility. It also improves joint mobility, reduces stress levels, burns calories and can lower feelings associated with anxiety and depression.
3. Hike the nature trails
When there's sunshine in the forecast, plan a hiking trip with your loved ones. Hiking is an optimal low-impact exercise that comes with many of the same benefits as biking, such as building stronger bones and muscles and improving cardiovascular health. It can also reduce your risk of experiencing respiratory issues and may enhance your balance, according to the National Park Service.
4. Practice yoga in the park
Looking for an activity that puts the mind, body and soul at ease? Harvard Health Publishing stated that yoga may increase flexibility and muscle strength, reduce anxiety and enhance cardiovascular health. Try an outdoor yoga session this summer to be one with nature.
If any of these low-impact exercises continue to affect your joints or body during the activity, you may consider using an IMAK Compression or IMAK RSI product that provides additional comfort and support. From the open fingertip design of the IMAK Compression Arthritis Gloves, to the tri-band technology of the IMAK Compression Knee and Elbow Sleeves, these products are designed to support a healthy lifestyle. They allow freedom to touch, grip and move while always staying in place.
Remaining active and healthy this summer is simple with IMAK Compression and IMAK RSI products. To learn more, browse Brownmed today.