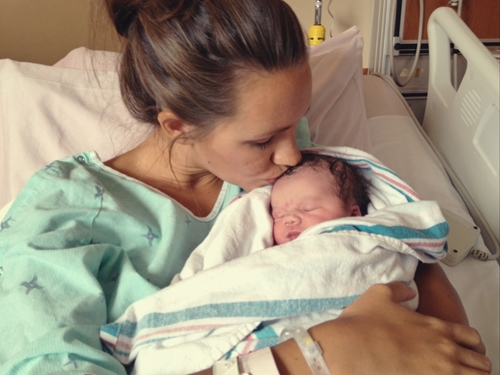 Holding your baby close to your chest is a way to promote good health and comfort for your baby. This is commonly referred to as Kangaroo Care, and as a mother, you also benefit from skin-to-skin contact with your child. According to the Cleveland Clinic, researchers working on infant mortality in Colombia during the late 1970s found that babies
held close to their mothers
during the day were healthier than those who weren't. In the U.S. similar results have been seen in hospitals that encourage Kangaroo Care with both mothers and fathers. There are benefits for newborns and older babies, and children and parents have a lot to gain by opting for the skin-to-skin contact offered by Kangaroo Care.
Healthy babies
A growing infant is very responsive to the outside world, and being held against a mother's chest releases hormones and promotes a number of important developments.
Nuroo carriers
are a comfortable way for you to hold your baby intimately while freeing up your hands for other tasks.
"Skin-to-skin contact encourages the growth of neural pathways."
Brain development is among the chief reasons to opt for Kangaroo Care. Skin-to-skin contact encourages the growth of neural pathways and promotes brain maturation. Hand to Hold found that this leads to
emotional stability
and regularity. This position is naturally soothing to your child, and research has found that infants held close to a mother's body have fewer stress hormones. This benefit can be achieved in just 20 minutes, and these babies are less agitated and even cry less. This strategy can also encourage consistent sleep patterns. Skin-to-skin contact extends to your baby's immune system and cardiovascular health. The method encourages the development of important antibodies and regular breathing. Frequent touching helps your infant's skin hydration, which builds a barrier against disease. Kangaroo Care also helps build a strong, lasting relationship between you and your child. It is not only calming, but also encourages easy breast-feeding, which is essential to help your baby grow and continue the maturation of internal systems. Whether around the house or out running errands, finding ways to hold your infant close to your chest helps with physical and emotional development. Gently allow your child to rest on your chest in bed with a cheek pressed against your body. When using a
Nuroo
carrier, be sure to maintain a similarly comfortable position. To full reap these rewards, opt for 60 minutes of uninterrupted skin-to-skin contact.
Happy mothers
There are a number of physiological benefits that Kangaroo Care offers mothers, aside from a happy and healthy baby. A father can offer some of the rewards of skin-to-skin contact, but he won't enjoy the same outcomes as you.
Kangaroo Care has been identified as a way to limit or reduce postpartum depression. Many new mothers experience a natural but troubling sense of unhappiness or stress following birth, and close contact with your child can alleviate this. It increases maternal oxytocin, which helps to balance hormone levels and reduce instances or feelings of depression. Skin-to-skin interaction also lowers cortisol levels, blood pressure and postpartum bleeding. This closeness promotes wellness and builds a strong bond between you and your baby. Skin-to-skin contact has also been linked to better milk production. Elevated amounts of oxytocin and other hormones stimulate the body to make milk more easily. Moms experiencing difficulty breastfeeding can see sharp improvements by opting for regular Kangaroo Care, as it naturally stimulates the body's maternal instincts. This helps your child get the nutrients necessary to build a healthy digestive system and stronger immunity to disease and infection. Use skin-to-skin contact to promote a happy and healthy relationship between you and your baby.